This diagram pictures the elements of lead or multi-pitch climbing while placing "Trad" gear for protection.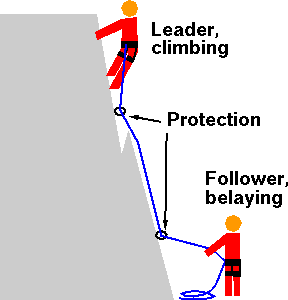 Below: Proper placement of trad gear (cams) in a parallel crack. Believe it or not, cams are just as safe as bolts if placed correctly!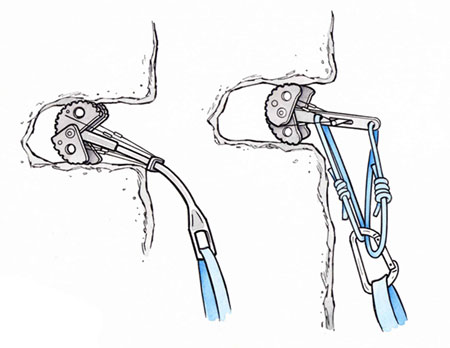 Advanced Rock Climbing
"Trad" Climbing
During this expedition you will learn...
Climbing safety and precautions
Lead climbing site management
Placing protection - Active & Passive gear: Cams, Tri-Cams, Nuts, Hexes, Slings...
Advanced anchor construction
Advanced climbing movement (for example: climbing overhangs, traversing, etc...)
Lead belaying and cleaning a route
Multi-pitch climbing
Rappelling (abseiling)
Rock rescue
Rope ascension
Back-country climbing
Deep-Water soloing
Leave-No-Trace wilderness ethics
Customized Naturalist lessons
This YouTube video discusses "Traditional" rock climbing.