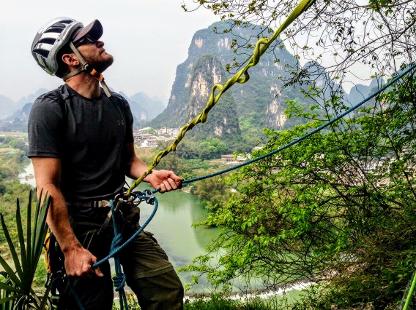 The Traveling Naturalist

My name is Scott Gregory Stewart and I am originally from the state of Michigan. My wife's name is Neyda Moulier and she's from the Caribbean island of Puerto Rico. For almost two decades she has been helping me perfect my Spanish and encouraging me to follow my dreams. I graduated with honors from Mount Saint Mary's University in Emmitsburg Maryland with Bachelor's degrees in Business and Spanish. Since then I have earned a professional teaching license in Physical Education (Grades K-12) from the University of West Florida.
I have a deep passion for the outdoors. I love doing adventurous things and I thrive on sharing those experiences with others. With a mind full of questions and a teacher in my soul, my mission is to teach people to love, respect, and protect the environment. I specialize in rock climbing, abseiling, backpacking, and kayaking. I am also a naturalist, passionate about teaching others about issues like climate change and environmental protection.
I am a two-time graduate of the National Outdoor Leadership School (NOLS). I completed their 30-day outdoor educator programs in the american southwest (backpacking and traditional rock climbing) and rocky mountain wind river range (traditional rock climbing and outdoor leadership). I am a certified wilderness first responder and leave no trace master educator, earned through the Wilderness Medicine Institute (WMI). I am also a certified American Red Cross water safety instructor (CPR, AED and airway management training).
During my free time, when I am not climbing rocks or looking for creatures in the woods, I enjoy hiking, paddling, cycling, and traveling the world with my wife. My favorite book is Mountaineering: Freedom of the Hills and if I could meet anyone famous it would be Sir David Attenborough or Steve Irwin, The Crocodile Hunter.
Here is a short video of the 30 day back-country rock climbing expedition I completed with the National Outdoor Leadership School. During this course we backpacked over 200km through the Rocky Mountains and climbed in the traditional style all over the mystical peaks of the Wind River Range, Wyoming, U.S.A.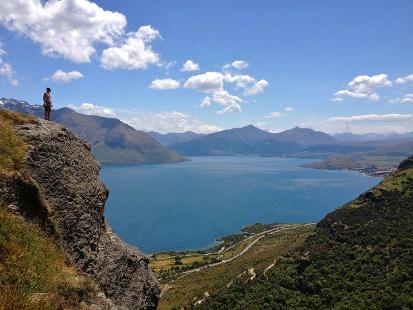 More About Me

After five successful yet unfulfilling years in the corporate world of management and sales, I started my career in the outdoors by serving as an AmeriCorps volunteer. For two years, I lived in a tent and managed environmental conservation and restoration projects all over the American southwest.
Upon the completion of my AmeriCorps service I worked as an environmental educator for The National Audubon Society's Pickering Creek sanctuary. My work with the Audubon led me to became the head naturalist of the Piney Run Nature Center in Sykesville, Maryland. At Piney Run, I developed and executed all school field trips and public programs which included rock climbing, backpacking, and kayaking expeditions in Appalachia.
After years of getting dirty I realized my true passion was for education. In 2013, my wife and I became international educators. Our journey abroad began in Vietnam, at the American International School in Ho Chi Minh City. Over the course of three academic years I taught physical, health, environmental education, and English language development. For the past six years we have served as educators for the Korea International School Jeju Campus (KISJ).
Jeju is home to three UNESCO natural heritage sites. I was the ES/MS Aquatics Coordinator for three academic years. Given my background and the natural wonders on Jeju, I advocated for and was given the opportunity to develop the only experiential education program on the island. I've created and lead over 25 curriculum based field trips providing environmental, historical, and cultural education. These 'GRIT Trips', are equally designed to cultivate self-confidence, empathy, and perseverance in our students with safety as the highest priority. During Covid I also converted my classroom into a 'Nature Space' to connect students to nature and the outdoors while they're indoors.
Check out this video of my first "television" appearance as a Naturalist representing Piney Run Nature Center on a local community channel in Eldersburg Maryland. Here, I am introducing my friends the Eastern Screech Owl and Eastern Corn Snake to the audience. The network accidentally misspelled my name in the video title : )
I filmed this short video while exploring the waters around Jeju Island on my Alpacka Packraft. This footage was taken in the protected bay of Wado Island, which is part of the larger Chagwido Marine Preserve located in the Yellow Sea. This preserve provides a habitat for various aquatic wildlife, including bottlenose dolphin, sea otter, cormorant, gulls, a variety of fish, and coral.These islands were formed by underwater volcanoes approximately 18,000 years ago and represent the amazing geological history of Jeju Island. This area is often frequented by Haenyeo, the infamous female free-divers of South Korea.
Photo Gallery from my Adventures around the World