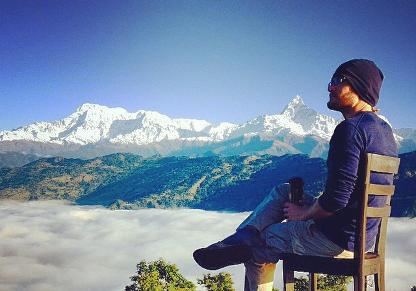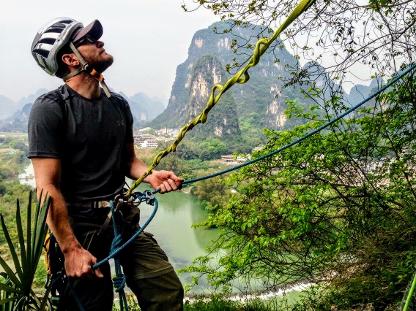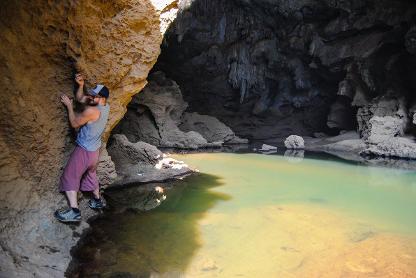 About Me, The Traveling Naturalist...

My name is Scott Gregory Stewart. I am 38 years old and I am originally from the state of Michigan. My wife's name is Neyda Moulier and she's from the Caribbean Island of Puerto Rico. For over a decade she has been helping me perfect my Spanish and encouraging me to follow my dreams. I am 1-minute older than my identical twin brother and best friend Ryan. He and the rest of our family live in the state of Maryland.
I have a passion for all things outdoors. I love doing adventurous things and I thrive on sharing those experiences with others. With a mind full of questions and a teacher in my soul, my mission is to teach people to love, respect, and protect the environment. I specialize in rock climbing, abseiling, backpacking, and kayaking and I am fortunate to have enjoyed leading adventures all over the world! I am also a naturalist and am passionate about teaching others about issues like climate change, pollution and environmental protection.
During my free time, when I am not climbing rocks or looking for creatures in the woods, I enjoy volunteering, reading, swimming, cycling and traveling the world with my wife. My favorite book is, Mountaineering: Freedom of the Hills, my favorite type of music is bluegrass, and if I could meet anyone famous (dead-or-alive) it would be Steve Irwin, The Crocodile Hunter (or Eddie Vedder from Pearl Jam; he is the man.)
I graduated with honors from Mount Saint Mary's University in Emmitsburg Maryland with bachelors degrees in both Business and Spanish. I have also earned my Professional Teaching License in Physical Education (Grades K-12) from the University of Florida. I am a two-time graduate of the National Outdoor Leadership School (NOLS) completing 32-day programs in both the American Southwest (Outdoor Educator - Backpacking and Traditional Rock Climbing) and in the Wind River Range, Wyoming (Traditional Rock Climbing and Outdoor Leadership).
I am a certified Wilderness First Responder and Leave No Trace Master Educator, both through the Wilderness Medicine Institute (WMI). I am also a certified American Red Cross Water Safety Instructor (with CPR, AED and Airway Management training) and an American Red Cross certified Lifeguard. I am currently seeking certification in Rock Climbing with the American Mountain Guide Association (AMGA). Rock on!
Here is a short video of the 31 day back-country rock climbing expedition I completed with The National Outdoor Leadership School. During this course we backpacked over 200km through the Rocky Mountains and climbed in the traditional style all over the mystical peaks of the Wind River Range, Wyoming, U.S.A.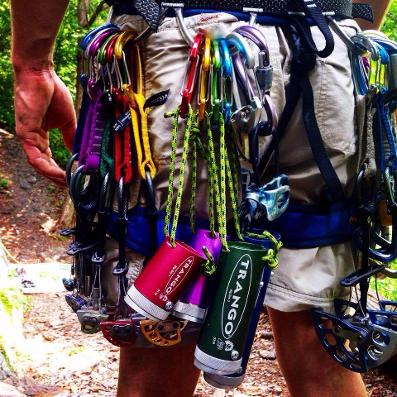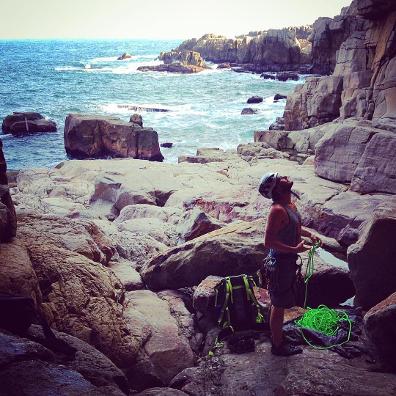 A Little More About Me...

After five successful yet unfulfilling years in the corporate world of management and sales, post my undergraduate studies, I started my career in the outdoors by serving as an AmeriCorps volunteer, leading a trail-crew for the Nevada Conservation Corps. For two years, I lived in a tent and managed environmental conservation and restoration projects all over the American Southwest. Projects included hiking-trail construction, rock-wall construction, invasive plant management, habitat restoration, endangered species protection and many more rad projects in remote places.
After completing my AmeriCorps service I worked as a Naturalist for The National Audubon Society, leading school field-trips and paddles on the Chesapeake Bay. Next, I became the Manager and Head Naturalist and of Piney Run Nature Center in Sykesville, Maryland. While at Piney Run, I continued my career in Environmental Education while caring for dozens of wild animals including owls, hawks, vultures, snakes, turtles, amphibians, honey bees, tarantulas, and about 100 hissing cockroaches! I also guided rock climbing, backpacking, and kayaking expeditions all over Appalachia.
After spending 3-years getting dirty, I realized my true passion for teaching. So, my wife and I decided to become International School teachers. Our journey abroad began in Vietnam as we landed 3-year contracts at the American International School in Ho Chi Minh City. Over the course of three academic years I taught Environmental Education, Outdoor Leadership, Physical Education and Health. We were also fortunate to explore and climb in 15-different countries while living in Southeast Asia.
Living internationally and exploring the natural wonders of the world has been a life-changing experience. My wife and I are now onto our next adventure in South Korea. We will be teaching at the Korea International School Jeju (KISJ) for the next 3-years. I am the Aquatics Coordinator for both the Elementary and Middle School. My wife is the Middle School Counselor. KISJ is located on a tiny volcanic paradise called Jeju Island, about 100 miles off the Korean mainland in the South China Sea. As Jeju is a geological masterpiece, I am hoping to start an Environmental and Outdoor Education program for the benefit of students and staff alike. We are eager to immerse ourselves within another "new" culture and to continue to bethriving members of a global community that share our love and respect for education as well as our Mother Earth.
Check out this video of my first "television" appearance as a Naturalist representing Piney Run Nature Center on a local community channel in Eldersburg Maryland. Here, I am introducing my friends the Eastern Screech Owl and Eastern Corn Snake to the audience. Sorry about the misspelling of my name in the video title!